WELCOME!
CATALINA FOOTHILLS HIGH SCHOOL
COMMUNITY SCHOOLS!
FOR PROGRAMS OFFERED AT CATALINA FOOTHILLS HIGH SCHOOL
4300 E. SUNRISE DR., TUCSON, AZ 85718
Summer Health and PE Registration
OPEN SOON!!!
Registration opens Wednesday, Feb. 8, 2023 @ 8:30am
Step 1: Become a member (create an account if you don't already have one.) or simply Log In to your existing account
Step 2: Start a new 2022-2023 Registration under HS Summer. This will allow you to see courses open for summer.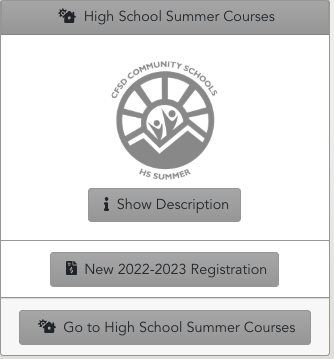 Step 3: Enroll - Click Enroll in Courses (green button) and find the options that you want.
---
COMMUNITY SCHOOLS POLICIES
NSF checks: A $25 bank processing fee will be assesed for any returned checks.
High School Policies
When dropping out of activities after the first class, 50% refund. No refunds after second day.
Fees for Classes, Athletics, Outdoor Adventures and Field Trips
All fees are due at the time of enrollment, prior to the start of the program. Contact Community Schools for information on payment plans or fee reductions. Fee reductions may be available based on combined family income.